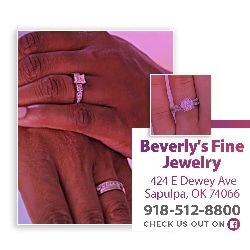 Teaching art for the last 18 years at Sapulpa High School, Candice McClanahan has a passion for art as well as her students.
"Hands down, my favorite things about this job are the relationships I have with my students," said Candice. "I love coming to school every day because my students really look forward to coming to my art class. There is something about working in clay that makes them hurry to get here, and oftentimes, they do not want to leave. I also love that our art studios are open to all of our students throughout the day, making it a safe space for them to come create whenever they want."
Her favorite part of her job might be the students, but the group of talented teachers she gets to share her day with are a close second.
"I work with a dream team of art teachers, all who inspire me in different ways. It is so nice that each one of us is able to bring an area of expertise to the department which in turn benefits our students," Candice said.
The person who inspired her to get into teaching was none other than her mother who was of course a teacher.
"She was an elementary PE teacher and loved her job," said Candice.
In her free time Candice enjoys spending time with her husband, Myles. A lot of her free time is also dedicated to making art.
"I spend a lot of my free time creating and selling artwork for myself and for my clients," said Candice. "I primarily make abstract work, but I love to draw figure as well."